WASHINGTON, D.C.: TAP MEETS BRAZILIAN SENATE PRESIDENT RODRIGO PACHECO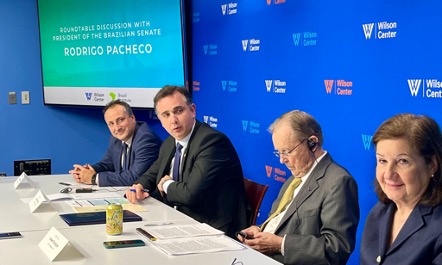 Wilson Center Director for Latin America Program Benjamin Gedan, Senate President Rodrigo Pacheco,
former U.S. Ambassador to Brazil Anthony Harrington, and Brazilian Ambassador
to the U.S. Maria Luiza Viotti.

Washington, D.C., August 31, 2023. TAP met with Brazil's Senate President Rodrigo Pacheco and Ambassador to the U.S. Maria Luiza Viotti during an event organized by the Wilson Center's Brazil Institute.
During the event, Senator Pacheco highlighted the strength of Brazil's institutions and spoke of initiatives to boost the country's economy and support sustainable initiatives. The Senator also offered his perspective on the importance of the U.S.- Brazil bilateral relationship, which should be based on mutual dedication to democratic values.